United Towing and Salvage Society Exhibition at Myton Law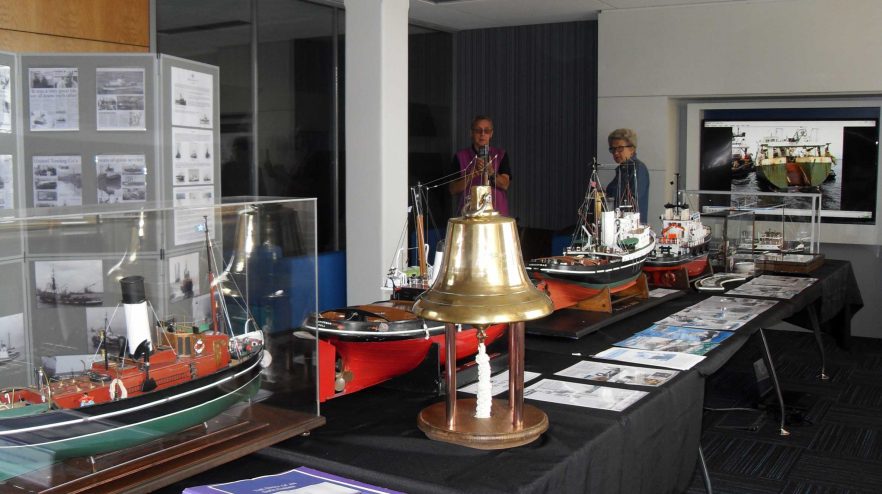 The exhibition ran from Friday 13th September through to Friday 20th September, excluding the Saturday and Sunday.
On Thursday 12th September Eddie, Pete and myself set up the exhibition in the board room of Myton Law.
The exhibition was varied between old and modern day events. The history boards contained a lot of information about how United Towing came to be formed in the early nineteen twenties, quite a lot of visitors showed interest in the companies that were involved forming United Towing.
On display was information about the part United Towing played in the Second World War and the Falklands campaign, a model of Yorkshireman was on show representing the Falklands campaign, World War two was covered regards the part United tugs played during those war years and it was a lot. We could only show a little of what we have because of space restrictions but that's the same regards any venue. We had new equipment to display our information which Eddie had sorted out, and it worked very well, thanks Eddie.
We had people come into the exhibition who had interest in United Towing and knew a little, and some visitors who knew nothing, and those who knew a lot. The thing that we did notice was the time visitors spent actually reading the boards, some a couple hours. The exhibition was a great success mainly due to the efforts of the committee, also a thank you to Ray Jordan for filling in and giving a couple of us a day off.
We would also like say thank you to Myton Law for allowing the society to use their boardroom for our exhibition and the help they gave us.
Also a big thank you to Carol [Myton Law] who kept the boiler going and gave us all the assistance we asked for. Thank you.
I think I have covered most topics and names but if I have missed anyone out I am sorry, but I must feed the cat and its getting late, remember us seventy somethings should be in bed by nine at the latest.
Night night.
Nev Gray
Picture: During the Hull Heritage Open Day